We have all been in this boat before; the day before work or school, ready to go to bed but needing to pack lunch for tomorrow. Usually we pack the same thing over and over again but we are getting tired of it. Here are a few great vegan lunch recipes that are easy to quickly make and to make in large quantities. 
Warm Quinoa Salad with Edamame and Tarragon 
Quinoa is a very healthy grain from South America. It has a ton of protein and fiber, and gives off a great nutty taste when cooked. This recipe does call for walnuts, but if you are allergic to nuts you can always add more peppers. 
INGREDIENTS: (4 Servings)
1 cup quinoa, (see Note)

2 cups vegetable broth

2 cups frozen shelled edamame, thawed (10 ounces)

1 tablespoon freshly grated lemon zest

2 tablespoons lemon juice

2 tablespoons extra-virgin olive oil

2 tablespoons chopped fresh tarragon or

2 teaspoons dried

½ teaspoon salt

½ cup drained and diced jarred roasted red peppers, (3 ounces)

¼ cup chopped walnuts, preferably toasted 
DIRECTIONS:
Toast quinoa in a dry skillet over medium heat, stirring a lot, until it becomes aromatic and begins to crackle, about 5 minutes. Transfer to a fine sieve and rinse thoroughly.

Next, bring broth to a boil in a medium saucepan over high heat. Add the quinoa and return to a boil. Cover, reduce heat to a simmer and cook gently for 8 minutes. Remove the lid and, without disturbing the quinoa, add edamame. Cover and continue to cook until the edamame and quinoa are tender, 7 to 8 minutes longer. Drain any remaining water, if necessary.

Whisk lemon zest and juice, oil, tarragon and salt in a large bowl. Add peppers and the quinoa mixture. Toss to combine. Divide among 4 plates and top with walnuts.

To make ahead prepare then cover and refrigerate for up to 2 days.
Both quinoa and edamame are full of nutrients the body needs. This recipe is not only great for lunches but also as a healthy side for dinner. Each serving of this salad has 17 grams of protein and 8 grams of fiber. Enjoy!
Creamy Coconut Cashew Spaghetti Squash "Alfredo" with Roasted Cauliflower
This just looks amazing to eat. The creamy sauce is a base of coconut milk and cashews. This combo together is great because the flavors are not overpowering, but they compliment each other. Even if you're not a fan of coconut, try this recipe out because it truly is wonderful. The Alfredo sauce, and the rest of the dish, is completely vegan so eat on!
INGREDIENTS: (2 Servings)
1

medium spaghetti squash

halved + seeds removed

1

head cauliflower

cut into florets

2

tablespoons

olive oil

1

teaspoon

chili powder

Salt + pepper

to taste
Coconut Cashew Alfredo Sauce
1

cup

canned full fat coconut milk

3/4

cup

salted

roasted cashews

2

tablespoons

lemon juice

1/4

cup

nutritional yeast OR parmesan cheese

2

cloves

garlic

smashed

1

teaspoon

salt

1/2

teaspoon

pepper

1/4

cup

fresh basil + parsley

chopped

Pinch or crushed red pepper flakes

to your taste

Vegan parmesan 

for serving

2-4

poached or fried eggs

optional
DIRECTIONS:
Preheat the oven to 400 degrees F.

Slice the spaghetti squash lengthwise and drizzle 1 tablespoon of oil all over the cut sides of the squash halves and sprinkle with salt and pepper. Place cut side up on a baking sheet and bake about 30 to 45 minutes, or until the squash is just tender enough to scrape into strands.

Add the cauliflower florets to another roasting pan or cookie sheet. Toss with the remaining 1 tablespoon olive oil, chili powder, salt and pepper. Roast for 25-30 minutes or until lightly charred and golden.

Meanwhile, make the coconut fettuccine sauce. In a high powdered blender or food processor, combine the coconut milk, cashews. lemon juice, nutritional yeast, garlic, salt and pepper. Process until the sauce is completely smooth and creamy. Stir in the crushed red pepper, basil + parsley. Taste and adjust the seasonings to your liking.

Remove both the squash and cauliflower from the oven. Scrape the squash into strands and toss with the coconut sauce. Serve warm with vegan parmesan, fresh herbs, crushed red pepper and an egg. I hope you like it!
Spicy Sweet Potato Salad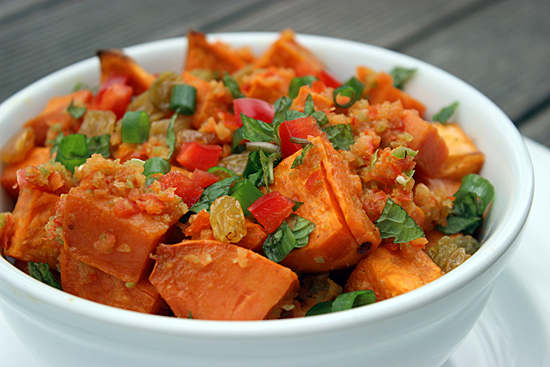 This spicy sweet potato salad is just like the quinoa edamame salad above, it can be a side, but it is also perfect for a quick lunch. The high in fiber sweet potatoes with the spicy dressing and jalapeños make this dish taste amazing.
INGREDIENTS: (4-6 Servings)
4 large sweet potatoes

1/2 cup extra-virgin olive oil, divided

Salt and freshly ground black pepper

1/4 cup red-wine vinegar

1 medium red bell pepper, cored, seeded, and quartered

2 teaspoons ground cumin

1 tablespoon grated orange zest

1/2 cup sliced scallion

1/2 cup minced fresh mint leaves

1 or 2 fresh minced chiles (jalapeño, Thai, or habanero), or to taste

1/4 cup raisins (optional)
DIRECTIONS:
Preheat the oven to 400˚F. Peel the sweet potatoes and cut them into bite-size pieces. Put them on a baking sheet, drizzle with two tablespoons of the oil, and toss to coat. Sprinkle with salt and pepper, and roast, turning occasionally, until crisp and brown outside and just tender inside, about 30 minutes. Remove and keep on the pan until ready to dress.

Make the dressing while the potatoes cook. Put the remaining six tablespoons of oil in a blender, along with the vinegar, bell pepper, cumin, and zest if you're using it. Sprinkle with a little salt and pepper. Purée until smooth.

Toss the warm potatoes with the scallion, mint, chiles, and raisins if you're using them. Add 1/2 cup of the dressing, and toss to coat, adding more if necessary. Taste and adjust the seasoning. Serve immediately or at room temperature.
This recipe is awesome to enjoy at work, on a road trip, or even to bring to the neighborhood bonfire. I hope you enjoy it!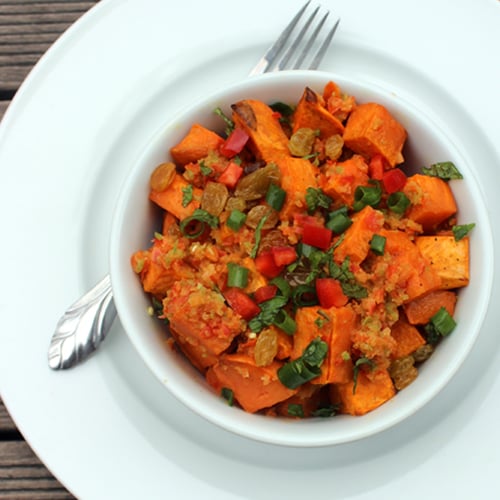 I hope you enjoy these recipes and try a few out! Feel free comment questions and I will get back to you as soon as possible. Enjoy!
Brought to you by Jump In Wellness — Follow us on Twitter and like us on Facebook 

@

Jumpinwellness